"Assertiveness is a social skill that relies heavily on effective communication,

while simultaneously respecting the thoughts and wishes of others".

https://www.psychologytoday.com/us/basics/assertiveness
I'm writing this piece days after the recent Bad Bunny controversy.
In case you didn't hear what happened:
A few days ago, this celebrity was in the headlines because he threw away a fan's mobile phone. He posted on Twitter (and later deleted) an excuse that the girl invaded his space, and put the mobile in his face.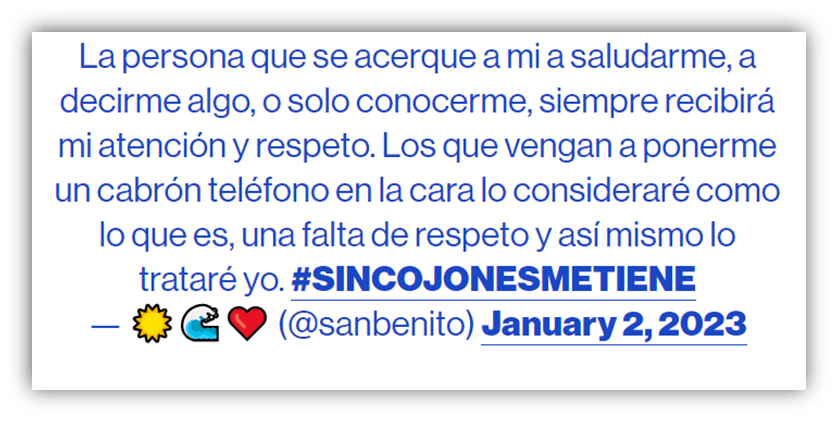 Basically, he said that only approaching him in a way that he likes is how he will be nice.
That led to either a wave of backlash and surprisingly, support from certain people: mainly his fanbase.
I don't know if the younger generations see this behavior as something normal, but people blaming the fan for bothering him left me amused.
I'm the kind of person that hates artists that are rude and mean with the fans. And I can't find any way to justify this level of aggression.
I was even more surprised to read in social media: many women thought that this guy was in his right mind to do what he did.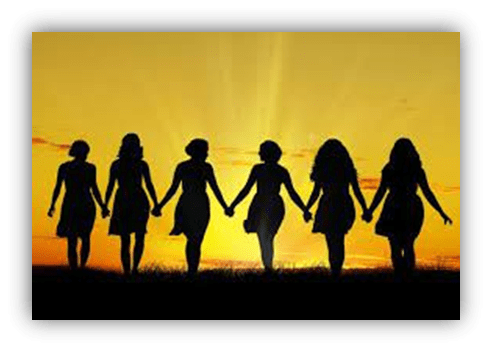 Where's that supposed solidarity among women?
I'm nobody to judge, but I kind of feel sorry for the fan.
The media is reporting that she is depressed and refuses to leave her room after what happened.
What I observed about the whole thing is that sense of, if you'll allow me the word:
"Entitlement."
The idea that this guy is thinking, "I'm the famous one here, and you just have to deal with it," attitude.
Which means that he wants all the good things about fame and fortune, without dealing with the bad part? Never mind, it doesn't give him the right to be an a-hole.
There are many other ways he could've handled the situation better, but since he has reacted like this before, evidently we could think that the guy has unsolved issues about anger management.
On the other hand, before the above mentioned scandal, in the last few weeks I've been thinking about what some women do in the name of the so-called "empowerment."
In my country, there's a female sports journalist named Marion Reimers.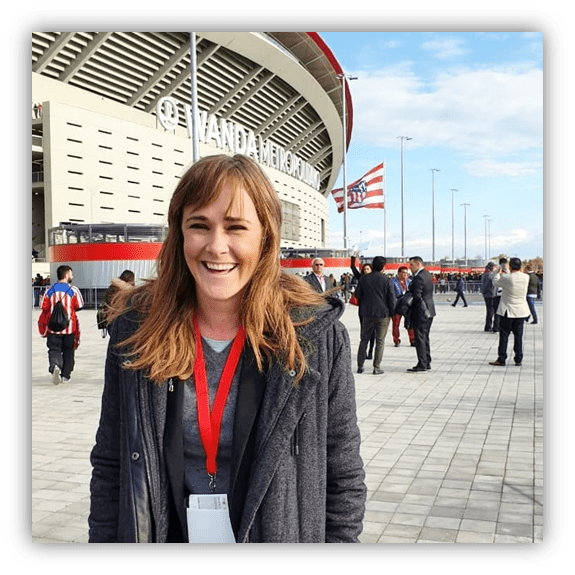 In the few last years, she has gained relevance for being one of the few women who can give well informed and prepared opinions about sports.
But she is also known for her lack of tolerance to criticism, blocking people on Twitter, and her rude manners towards her coworkers.
In 2021 she left the network in which she was working. She went to start a new job at TNT Latin America, as the main anchorwoman for the games of the UEFA Champions League. It's a football (soccer) competition that has lots of fans in this region.
Tournament fans didn't like much this, because in her previous network she used to narrate female soccer games, and her style wasn't for everybody's tastes.
Last November, Marion received backlash in social media after a heated discussion with one of her male cohosts.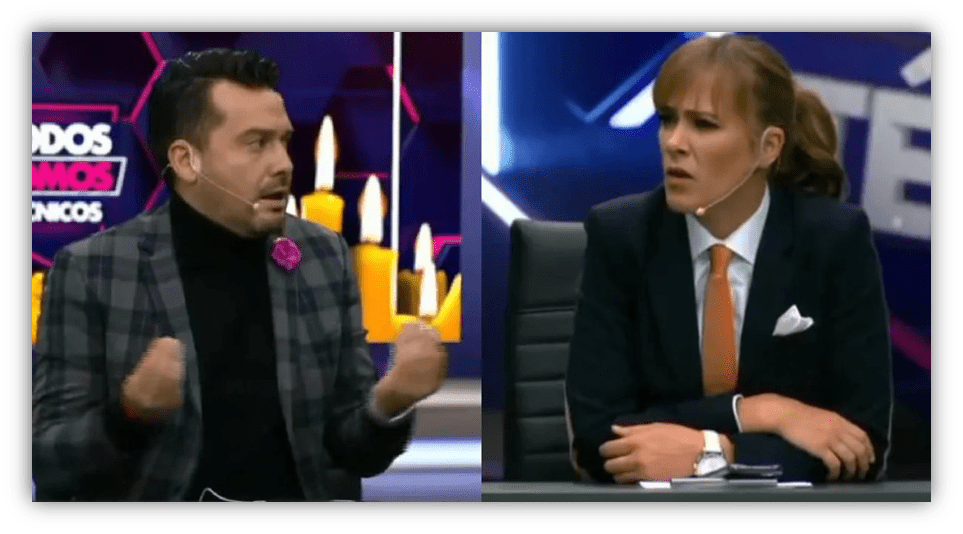 In a broadcast after a Champions League game, she asked him why didn't he "just go away" after he told her: "don't try to create cheap controversy".
To give you some context about the latter statement: In recent years the Latin American versions of Fox Sports and ESPN sports shows have certain male presenters or reporters behave as an antagonist to the audiences. They are controversial, loud, antipathetic – and basically morphing themselves into characters.
All of this in order to boost ratings of their respective shows.
After that discussion on live TV (or in this case, also streaming) most people reacted negatively. They in essence said: that if a man had done something like this to a woman, the guy would have been fired immediately. Others attacked TNT Sports for supporting her behavior.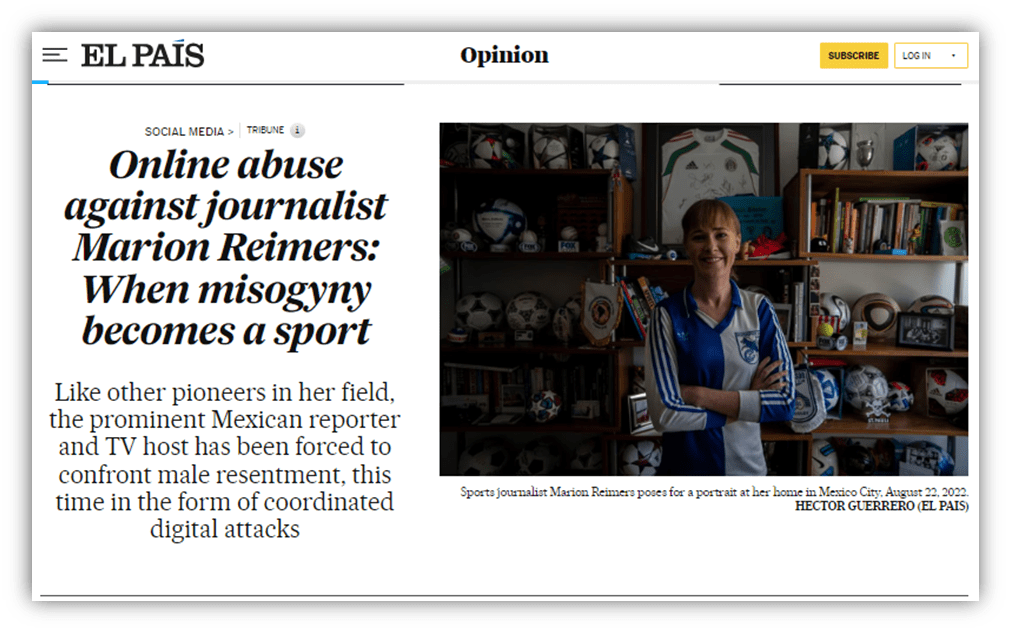 About a month later, an article posted in the Mexican edition of the prestigious Spanish newspaper El País stated that there was a case of digital violence against Marion.
The attack was made of bots and trolls created specifically to assault her, and the campaign could cost almost one million Mexican pesos (about US$50,000 dollars).
People on Twitter who reacted to this information said lots of things. For example:
"Who would paid to attack her, if we can hate her for free?"

"We don't like her because simply she's not good in what she does."

"Stop using misogyny as an excuse."
As if this wasn't enough, during the last FIFA World Cup, Televisa Networks asked former players and coaches to analyze the matches.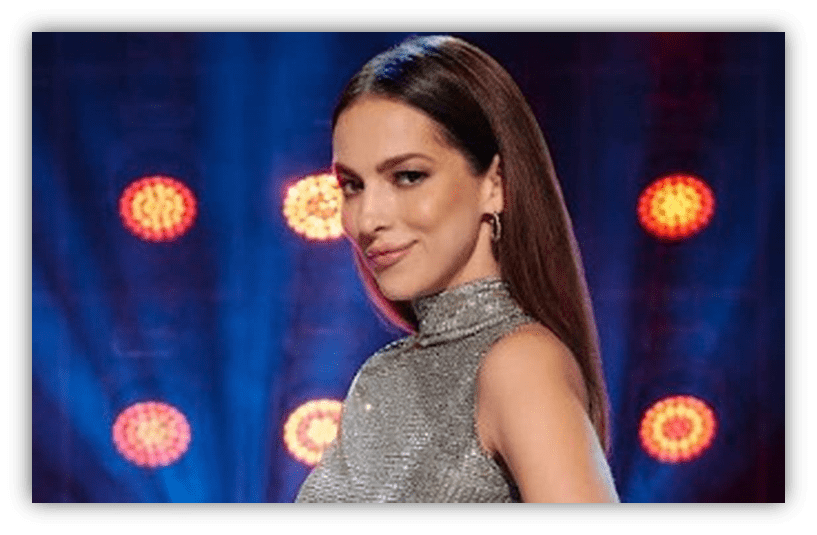 Midway through the tournament, the producers had the idea to invite singer Paty Cantú, who in those days gave sports opinions in her Twitter account.
For whatever reason, the audience liked this move, with many people finding her more charismatic than Marion.
Some said that Paty should be an sports anchor (that didn't necessarily mean that this singer is informed or has enough knowledge to be in that profession, after all it was just an experiment to increase ratings).
Both of these scandals have something in common: Neither of the persons involved – Bad Bunny or Marion Reimers – apologized for their actions.
Unlike them, football player Cristiano Ronaldo had an outburst last year against a disabled young boy, breaking his mobile phone.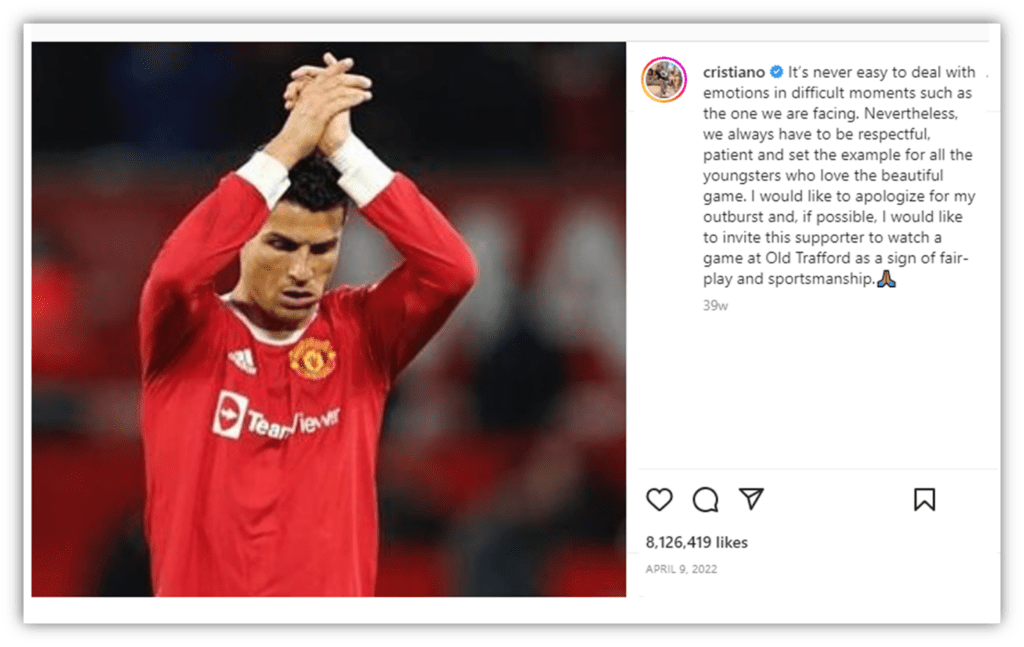 After a backlash, he ended up apologizing to the boy…
..Probably pressed by the sponsors.
But at least he did something.
Many years ago, I read an article at the Entertainment Weekly site about actor Katherine Heigl. I don't remember the content anymore, but I do remember an opinion that I read in the comment section, and it said something like this:
"Being assertive it's not the same as being corrosive"
I never forgot that.
If we as a society are not able to realize that our actions have consequences and should face them, we have a problem.
Let the author know that you liked their article with a "heart" upvote!